Appointments are a built in feature within MatterSphere that a lot of people do not utilise.
Alongside being able to view upcoming tasks etc. you can also enter and track upcoming appointments.
Appointments can be added on an ad hoc basis or via the workflow (if this has been built in).
By utilising Appointments in MatterSphere you can see all your Tasks and Appointments in one place instead of moving between MatterSphere and Outlook.
Create an Appointment
Step 1 – From Command Centre
Select Appointments in the Navigation Panel
Click Add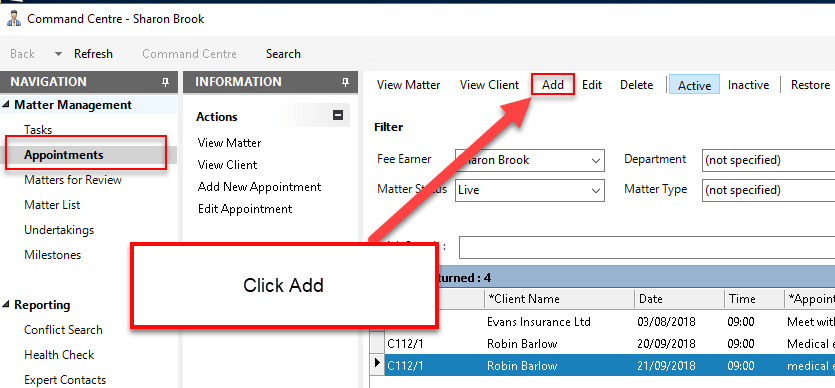 Choose the Matter the appointment should be created against
Either Enter Client number or use Find
Click Proceed when correct matter selected
Step 1 –  From Matter
Navigate to your specific Matter
Select Appointments in the Navigation Panel
Click Add

Step 2 – Appointment Details
Complete the appointment wizard in order to enter the initial appointment information.
Click on drop down list to select an Appointment Type
Click to select the appointment date
Type in the start time and the expected end time
Type in the Appointment Description
Click Next to add further detail
Add the Appointment Location
Select the Fee Earner the appointment will be with.
Finally click Finish to complete adding the appointment
Viewing Appointments
From Command Centre
Select Appointments on the Navigation panel
Check the Filters to ensure you are viewing the required detail
Select the Fee Earner whose appointments you wish to view
The usual default is to view all Due Dates as Overdue
Select the drop down to select the required timescale to view for appointments
The example shown below shows all the appointments on the system for the Fee Earner selected.
From Matter
Navigate to the required matter
Select Appointments on the Navigation panel
This will display all Appointments currently Active.  Filters can be used to narrow down the list.
Managing Appointments
Edit
Select the appointment to Edit
Click Edit
Make the changes
Click Save and OK
Delete/Inactive
You can easily manage your appointments on each matter by deleting those that have passed.
Deleting will just move the appointment into an inactive list allowing you to always view previous appointments whilst maintaining an up-to-date current list of upcoming appointments.
Select the appointment to be deleted
Click on Delete
Restore/Active
Appointments that have been deleted and are now in Inactive can be restored to the active list easily
Select the Inactive list
Choose the appointment to be restored
Click Restore
In future blogs we will look at how to incorporate appointments into precedents to either prompt to add and appointment or select an already created appointment.
If you have any queries or would like to request training please contact us and we will be happy to discuss your requirements.