Anyone who uses MatterSphere knows you utilise your Contact records to do the following:
store address and contact information
use on a specific matter as a matter Associate
use the details to create documents
Did you also know that the Contact Record stores and records other information and information that you can utilise in other ways……..
Contact Associations:
On each Contact record you have a list of all the matters where the Contact as been used as an Associate.  This information also displays what type of Associate they were on any one matter e.g. on Matter A the contact was associated as a Witness but on Matter B they were associated as an Expert etc.
This gives a great overview of how often a specific individual or business is used as an Associate on matters and in what capacity.
Security Information:
This is where the initial ID checks etc are held.  For example on an Individual Contact Record you can store Passport images, Driving Licences, other proof of ID/Address and on Business Contact Records you can hold the same information for the main contact but also items like Certificates of Registration and Company documents.
This provides a central source of information for the use against all future matters enabling other departments in the firm to access ID information easily and prevent having to re-request from Clients or others.  This speeds up all new matter Client checks.
Also on here you can add a Security Question and Answer.  This gives the ability to request elements of this answer from the Contact whenever they contact you to ensure you are speaking to the correct person and not breaching any confidentiality.
Documents:
Whilst most documents are accessed via the matter they are saved against, they are also visible against the Contact Record of the person they were associated to on that matter.
This provides a unique history of each piece of documentation, letter, email or other that the selected Contact has ever been associated to and will display the document details along with the Client and Matter number it relates to.
Example:  If a person contacts you and you only have their name you can look at the document history to see when the last correspondence was and on what matter etc. enabling you to refer the person to the correct department or fee earner as required.
Contact Notes:
Each Contact Record has a Notes area so specific notes relating to the individual or business can be added there and be available for any other member of the firm to view should they be using the Contact as an Associate on their matter.
This can help provide unique and important information about the person to others e.g. if the Contact is deaf and requires audio assistance or hearing loop this type of detail is something that is beneficial to know in advance of meeting them that may not have been previously discussed.
Contact Links:
This area allows links to be created to other Contacts and will display those links. This gives an overall view of how the individual or business may be connected with other matters and where there may be potential conflicts.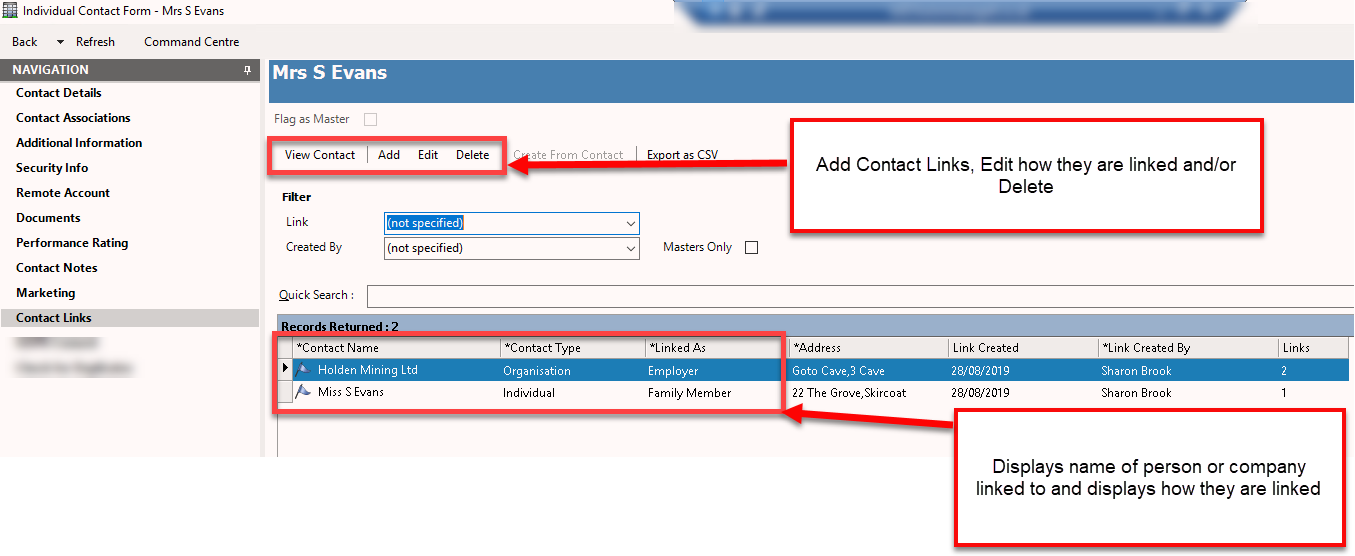 If you would like any further information or would like to access further training to discover more ways you could utilise MatterSphere please contact Sharon Brook by email [email protected]